Pediatric Concussion Resources for Families, Schools, and Sports Organizations: Includes an updated return to play, school, and sport protocol.
This page includes links to updated evidence-based handouts that share recommendations from the concussion experts on our team about recovery from pediatric concussion for families, schools, and coaches. These handouts are in pdf format and are printable. Handouts include the most up-to-date return to school protocol, return to activity and sport protocol, and recovery tips. The family version of the Living Guideline for Pediatric Concussion Care is a summary of the most important information that you need to know as a family member, parent, or caregiver of a child/adolescent with a concussion. The family version includes three sections: A. Concussion Recognition, Assessment & Management; B. Managing Concussion Symptoms; and, C. Biomarkers In each section you will find information from the guideline written in question and answer format. For many of the questions, the clinical recommendations they align with are listed in a teal coloured box
Family Version / Version Famille
This pdf document is in a Q & A format and is designed for use by parents/caregivers offering a series of recommendations to help children and adolescents with concussion recover safely and return to their everyday life.
Link to the family version pdf
La Version Famille des lignes directrices pour le diagnostic et la gestion des commotions cérébrales en pédiatrie sert de guide aux membres de la famille pour aider l'enfant/l'adolescent à gérer sa commotion cérébrale.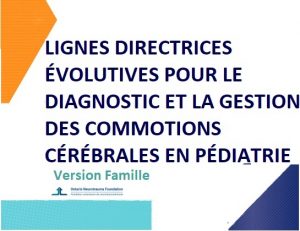 Printable Handouts
Printable handouts have been developed for Parents, Teachers, and Coaches. These handouts share a summary of the Living Guideline and include information about concussion and clear steps for returning to activities, sport, and school. The handouts also include a list of additional online resources.